Review: To Capture Her Heart by:Rebecca DeMarino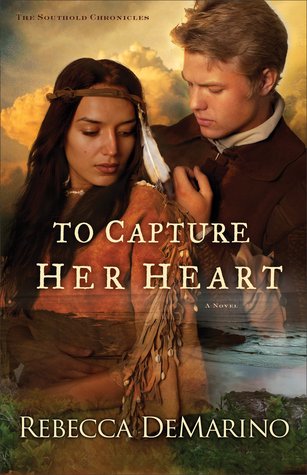 About the Book:
It is 1653 and Heather Flower, a princess of the Montauk tribe, is enjoying her wedding feast when her groom is killed and she is kidnapped by a rival tribe and held for ransom. Though her ransom is paid by an Englishman, she is nonetheless left to die in a Connecticut forest–until she finds herself rescued by handsome Dutch Lieutenant Dirk Van Buren. Torn between her affection for Dirk and her long friendship with family friend Benjamin Horton, Heather Flower must make a difficult choice–stay true to her friend or follow her heart.
My Review:
Heather Flower watched as her husband-to-be was killed at their wedding feast, by a rival tribe. The tribe kidnapped her along with thirteen other women taking them out in the unknown. Her ransom is paid but her captors tie her up and leave her to die. When she believes she will never see her parents again, she is rescued by a handsome Dutch man.
Dutch Lieutenant Dirk Van Buren's job was just to find Princess Heather Flower and return her to her tribe, not fall for her. The minute he laid eyes on her, he knew he had never seen someone so pretty. He feels he must protect her at every waking moment. But when he must let her go with people she knows, it feels as if his heart is being ripped in two.
Months have passed, a baby is born to Heather's friend, and he uncle has died. She never expected to see Dirk again nor did she expect her friend to have feelings for her. Though she still morns her husbands death, she knows that she must make a choice. Even if it means loosing a friend.
To Capture Her Heart is book two in The Southold Chronicles. Rebecca DeMarino is an amazing book. I enjoyed it gave an in-depth look at the way the Indians handled death, birth, and everyday life. I can't wait to read book three!
**Disclosure** This book was sent to me free of charge for my honest review from Revell.