Litfuse Review: They Almost Always Come Home by:Cynthia Ruchti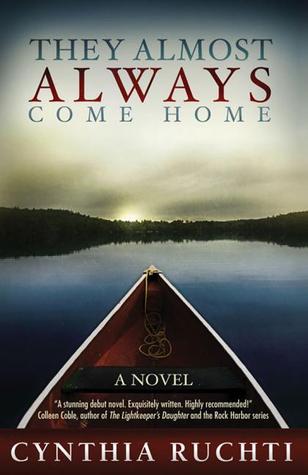 About the Book:
Finalist – 2011 Carol Award and 2010 RT Book Reviews Reviewers' Choice AwardWhen Libby s husband Greg fails to return from a two-week canoe trip to the Canadian wilderness, the authorities soon write off his disappearance as an unhappy husband s escape from an empty marriage and unrewarding career. Their marriage might have survived if their daughter Lacey hadn t died . . . and if Greg hadn t been responsible. Libby enlists the aid of her wilderness savvy father-in-law and her faith-walking best friend to help her search for clues to her husband s disappearance if for no other reason than to free her to move on. What the trio discovers in the search upends Libby s presumptions about her husband and rearranges her faith."
My Review:
 Libby awaits the arrival of her husband, Greg, from his two week solo Canadian canoe trip. When he doesn't come home, Libby does her best not to freak out but the silence begins to drive her mad. Soon it's been to long, and no one has received word of his arrival. He's now officially a missing person. Police search high and low, but still no sign of Greg or his things. Libby begins to lose hope, but her father-in-law has an amazing idea.
 So Libby, her father-in-law and her best friend, venture out into the Canadian Wilderness, searching for anything that could possibly tell of what may have happened to Greg, either good or bad. Day's in they find both his canoe and his paddle, but where is Greg? As it seems they are at a loss, Libby begins to dig deep in her memories, for a possible answer. When she looks to her faith, one question ails her mind. Where is God in all of this chaos?
 Cynthia Ruchti has done it again with, They Almost Always Come Home. I was on the edge of my seat with each page. My favorite part would have to be Greg's Story in the back. This book is definitely one I want to read over and over. I can't wait to see what Cynthia Ruchti has next! It's sure to be amazing!
**Disclosure** This book was sent to me free of charge for my honest review from Litfuse.