Litfuse Review: To Win Her Favor by:Tamera Alexander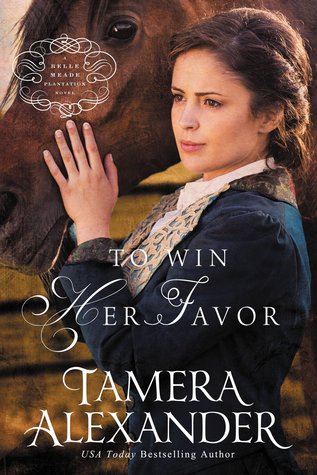 About the Book:
A gifted rider in a world where ladies never race, Maggie Linden is determined that her horse will become a champion. But the one man who can help her has vowed to stay away from thoroughbred racing for good.
An Irish-born son far from home, Cullen McGrath left a once prosperous life in England because of a horse racing scandal that nearly ruined him. He's come to Nashville for a fresh start, hoping to buy land and start a farm, all while determined to stay as far away from thoroughbred racing as possible. But starting over proves harder than he'd wagered, especially when Maggie Linden's father makes him an offer he shouldn't accept yet cannot possibly refuse.
Maggie is certain that her mare, Bourbon Belle, can take the top purse in the annual Drayton Stakes at Nashville's racetrack––the richest race run in America. Maggie only needs the chance to prove it. To give her that chance, and to save Linden Downs from being sold to the highest bidder, Maggie's father––aging, yet wily as ever––makes a barter. His agreement includes one tiny, troublesome detail––Maggie must marry a man she's never met. A man she never would have chosen for herself.
Cullen and Maggie need each other in order to achieve their dreams. But their stubborn, wounded hearts––and the escalating violence from a "secret society" responsible for lynchings and midnight raids––may prove too much for even two determined souls.

My Review:
Maggie Linden's dream is to race horses, especially her beautiful mare, Bourbon Belle. But her parents, especially her Mama, never liked the idea of their girl doing something that is for a man to do. She is determined to make sure her mare wins, due to the problems that surround her if she loses. As racing time nears, Maggie is dependent on her rider, but when he shows up bloody, and leaves abruptly with his family, she knows that this may be harder than she thought.
Cullen McGrath, an Irishman, that left his home in England for a new start in the Nashville. Running away from a horse racing scandal, he wants to be far away from the horse racing scene. He wishes just to buy land and start a farm. But many don't trust the Irish and aren't that willing to sell anything to him. Cullen visits an old man by the name of Gilbert Linden in order to talk business. But when Gilbert tells of the asking price for the very farm they sit on, he adds one small stipulation to it all. Cullen is to marry Maggie.
Maggie desperately needs a rider but her searches her halted when she learns of the deal her father made with an Irish stranger. She knows that this is something she must do for the good of the horses and the good of the farm but this may just put a damper on it all. Cullen wants this farm more than anything. So when he learns of Maggie's wishes is undecided of how he feels about this situation. But they'll both soon learn that they both desperately need one another to fulfill their dreams.
To Win Her Favor is another amazing addition to the Belle Meade Plantation novels. Tamera Alexander did an absolutely wonderful job on this book. She is definitely a talented writer. I'm so excited to see what she has in store next time.
**Disclosure** This book was sent to me free of charge for my honest review from Litfuse Publicity.