Review: What About the Church? by:Russell M. Stendal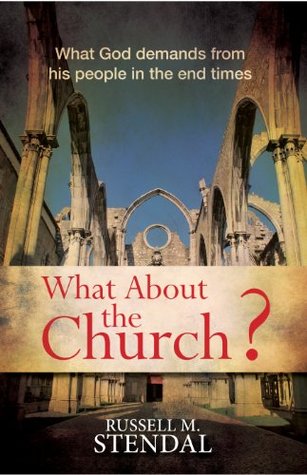 About the Book:
Throughout the long history of the church, men have searched in vain to discover the ideal model for the corporate structure of the church. No hierarchy is clearly spelled out in the Scriptures except what the Spirit says through Paul in the letter to the Corinthians or the Ephesians. Nevertheless, throughout the age of the church, many individuals and groups involved in wars and with blood on their hands have not hesitated to attempt to build the temple of the Lord in the form of a given denomination, group, or organized movement. These attempts resulted in building dead monuments instead of joining living stones that would be a light unto the nations. Man measures success according to the criteria of this world, the number of participants, or some other outward measurement, while God measures success by righteousness in the heart and obedience to His Word by those who have learned His ways.
About the Author:
Russell Stendal is a lifelong missionary to rebels in the jungles of Colombia, and is an influential friend to military and government leaders in Colombia, Cuba, Mexico, Venezuela, and the United States. Russell's ministry shares the gospel via 12 radio stations, hundreds of thousands of Bibles, books, and movies distributed through airplane parachute drops, and numerous invitations to speak to groups of leaders, prisoners, and individuals. Russell goes wherever the Lord leads, whether it's to speak with a president, or to go deep into the jungle to help an individual in trouble. He has witnessed thousands commit their lives to Christ.
My Review:
 The author is able to convey many of his thoughts on matters of scripture and he is able to do that effectively. But in this writing he gives you a collection of his varied commentary especially his thoughts concerning the temple and the end times. He I was able to get my mind reeling from such dramatic prose but I fear some of it was lacking. While I admire him for his earlier writings, I feel like this was missing something.
 With all that being said he is straight forward and never curtails the issue which I love And this book is just another to add to the goody pile. God is calling us to be obedient church and we need to recognize that and heed his call.

**Disclosure** This book was sent to me free of charge for my honest review from Life Sentence Publishing.