Review: From The Start by:Melissa Tagg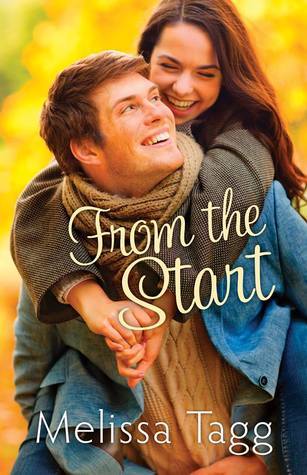 About the Book:
Kate Walker used to believe in true love and happily ever after. While her own love life may have left her brokenhearted, it hasn't kept her from churning out made-for-TV romance movie screenplays…until a major career slump and a longing to do something meaningful send her running back to her hometown of Maple Valley.
Permanently sidelined by an injury, former NFL quarterback Colton Greene is temporarily hiding out in a friend's hometown to avoid the media and the reminders of all he's lost. Maple Valley seems like the perfect place to learn how to adjust to normal life. The only trouble is he's never really done normal before.
While Kate plays things safe and Colton is all about big risks and grand gestures, they both get what it's like to desperately need direction in life. An unexpected project gives them both a chance to jumpstart their new lives, but old wounds and new dreams are hard to ignore. Starting over wasn't part of the plan, but could it be the best thing that's ever happened to them?
About the Author:
Melissa Tagg, author of Made to Last, is a former reporter and total Iowa girl. In addition to her homeless ministry day job, she is also the marketing/events coordinator for My Book Therapy, a craft-and-coaching community for writers.
My Review:
Kate Walker, a screenplay writer, longs for the day someone will love her and adore her. She feels she has come to the understanding that it may just never happen. It's time to just get on with life. When she receives a call, offering her a job in Africa writing, she believes she may just take it. It would get her away from lonely Chicago and out on an adventure. But her dreams are dimmed just a little, when her brother calls with some devastating news.
Colton Greene, a NFL quarterback, has always loved football. It was is whole life ever since he was a child. Now, after a bad injury, he is retired just like that. And during all the press conferences, he learns that the girl he wanted to propose to, got married, while he was hurt. Colton starts to turn to his old ways until his friend visits with the idea of him hiding out in Maple Valley. And of course, Colton's manager believes that would be a good idea to keep him out of the media for a bit.
Maple Valley, home sweet home. Kate drove hours to reach her childhood home. Exhausted from the trip, she crashes in her old bedroom. The minute she lays down she notices something isn't right, and that is when she meets Colton Greene. When she see's him for the first time, she notes he is quite handsome.
Colton needs a writer for his book and he believes he just it, well her. Her being quite a looker, doubled with her smarts, this book is sure to be a touch down. Now to get her to agree to it.
From The Start is an amazing book and the first book in Melissa Tagg's new series, The Walker Family series. This book is a page-turner for sure. I'm really looking forward to the next book in this series!
**Disclosure**This book was sent to me free of charge for my honest review from Bethany House.