Review: On Shifting Sand by:Allison Pittman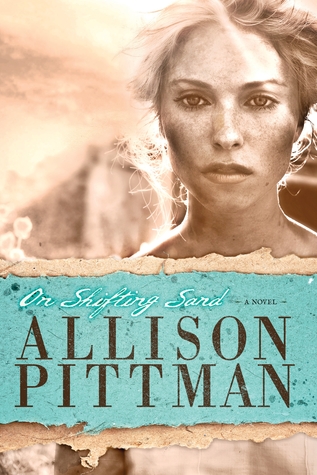 About the Book:
Long before anyone would christen it "The Dust Bowl," Nola Merrill senses the destruction. She's been drying up bit by bit since the day her mother died, leaving her to be raised by a father who withholds his affection the way God keeps a grip on the Oklahoma rain. A hasty marriage to Russ, a young preacher, didn't bring the escape she desired. Now, twelve years later with two children to raise, new seeds of dissatisfaction take root.When Jim, a mysterious drifter and long-lost friend from her husband's past, takes refuge in their home, Nola slowly springs to life under his attentions until a single, reckless encounter brings her to commit the ultimate betrayal of her marriage. For months Nola withers in the wake of the sin she so desperately tries to bury. Guilt and shame consume her physically and spiritually, until an opportunity arises that will bring the family far from the drought and dust of Oklahoma. Or so she thinks. As the storms follow, she is consumed with the burden of her sin and confesses all, hoping to find Russ's love strong enough to stand the test.
My Review:
As the Dust Bowl dries everything up and whisks it away, Nola Merrill feels that it also is doing the same to her very existence. Her mother died when Nola was young leaving her with a father who wont say he loves her. She married Russ the local preacher quickly, and had two kids just as fast. It all seem to be going the same as always until, she meets Jim, an amputee and college friend of her husbands.
The way Jim looks at Nola gives her shivers. She desperately wants him to leave town before she does something unthinkable. It all gets worse when her husband believes it would be in Jim's best interest for him to stay at their home. But Nola knows this isn't the greatest idea. When her father becomes mentally unstable, Nola finds herself more and more around Jim. During a rough dust storm, she is caught alone with Jim, in her car, with no one around. She walks away from that dust storm an unfaithful wife. Her life begins to spiral out of control. She asks God for is forgiveness daily, but her husbands forgiveness is what she desperately wants, if only she had the heart to tell him.
The author did an amazing job portraying the life of a woman who committed adultery. This book had me continuously wanting to know what happened next. All the characters had perfect chemistry, despite a few of their choices. I thought that Nola's husband was a sweet guy, even though his wife did what she did. It truly was an amazing book!
**Disclosure** This book was sent to me free of charge for my honest review from Tyndale.