Review: Duck Commander Devotions for Kids by:Korie Robertson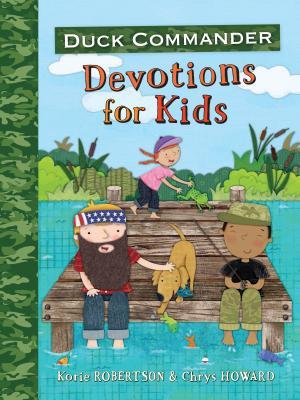 About the Book:
The first devotional for kids by the Robertson family of"Duck Dynasty"fame!
With the Robertson clan s flair for down-home wisdom and their wholesome family values, this devotional reveals the heart and faith of this much-loved family from A&E s hit show"Duck Dynasty." The more than 6-million moms, dads, and little ones who are loyal fans of the"Duck Dynasty"family will love this collection of inspirational messages.
Each devotion contains a brief message, an anecdotal story from America s favorite family, a passage from Scripture, a prayer, and a Duck Commander in Action. Not only are the messages motivational, but they are also mixed with the characters trademark wit and revelations from their personal faith journeys. An ideal companion product for"Duck Dynasty"fans, outdoor enthusiasts, and those who want to grow in their faith, "Duck Commander Devotions for""Kids"is certain to inspire little ones in their faith journey.
About the Author:
Korie Robertson is a New York Times bestselling author, the wife of Duck Commander® CEO Willie Robertson and star of A&E's Duck Dynasty. A mother of five, Korie balances family life and her role at Duck Commander with several ventures of her own, including her retail store Duck & Dressing, overseeing licensing for the family's brands and philanthropic work with a children's home in the Dominican Republic, Help One Now and adoption and foster care advocacy in Louisiana. Her writing credits include Duck Commander Devotions for Kids, The Women of Duck Commander: Surprising Insights from the Women Behind the Beards About What Makes This Family Work, Faith Commander: Living Five Values from the Parables of Jesus and The Duck Commander Family: How Faith, Family, and Ducks Built a Dynasty.
My Review:
 A sweet little devotion for children with over 200 passages completely reliant on Scripture. Korie includes many family stories, events, and situations to make you laugh, smile, and realize that the Lord is taking part of it all. This family lives for God and it shows in every aspect of their lives and we are blessed that they share it all with us. She also gives you points to ponder and think about as well as short and sweet prayers to help your child pray it through. A very touching devotional that should last your child several months. And it is complete with illustrations as well.
**Disclosure** This book was sent to me free of charge for my honest review from Book Look.